First responders will join Saturday's Wiggle Waggle Walkathon
---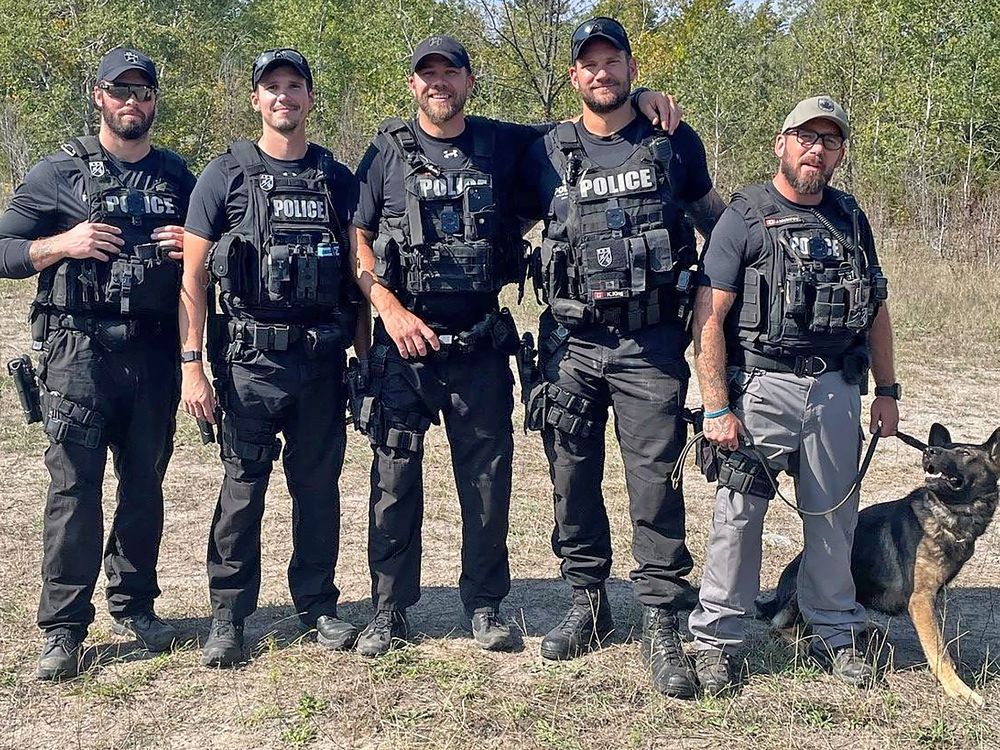 Content of the article
Teams of local police, fire and paramedics will gather at West Zwick's Park this Saturday to walk their dogs and help animals in need in Hastings and Prince Edward.
Content of the article
This is the first year that the Humane Society Hastings Prince Edward Wiggle Waggle Walkathon has allowed teams of walkers to register.
"We thought having teams would help our existing walkers encourage their friends, family and co-workers to join in and maybe have a friendly competition," said Tracey Bunnett, Chair of the Walk Committee. HSHPE fundraiser.
And local supporters have answered the call with a dozen teams signed up so far, including teams from Belleville Police Department, Belleville Fire and Emergency Services and Hastings Quinte Paramedics .
Police participation in the walkathon was led by Chris Barry, Deputy Chief of the Belleville Police Department and HSHPE Board Member.
"I know a number of our members have been looking for a way to support the Humane Society and this seemed like the perfect opportunity for them to show their support and join the firefighters as well as other community residents. to walk for such a great cause," Barry said.
Content of the article
In addition to reaching out to his fellow police officers, Barry reached out to Monique Belair, Director of Emergency Services and Fire Chief of Belleville Fire and Emergency Services and Carl Bowker, Chief Paramedic Services of Hastings Quinte to see if they wanted to participate.
"The significance of participating in this walk is not only to support another community service, but has a real personal connection to me. I am the proud mom of two furry rescues named Kratos and AJ. My two dogs were abused by their former owners and I have worked hard to provide them with a home where they know they are safe and loved But somehow I think I am the one who feels safe and loved by both of them," Belair said.
Belleville Police Department has two registered teams, BPS Old Dogs – with team members Chris Barry, Sheri Meeks and Mike Callaghan and their dogs and Mutts and Jeff – with team members Kyle King, Matt Sweet , Jeff Smith, Greg Kendall, Jesse McInroy and their dogs. The Belleville Fire and Emergency Department team is the BFES Barkers – with team members Monique Belair, Shane McGrath, Don Carter and Lisa Gilmour and their dogs. The Hastings Quinte Paramedic team, HQPS Purr-a-medics, is led by Carl Bowker.
These four teams are part of a dozen registered in the Walkathon, which takes place on Saturday October 15 from 10 a.m. to 2 a.m. at West Zwick's Park. Everyone is welcome to cheer on the walkers in the park. There will be dog demonstrations, vendors, food and more, including live music by Full English.
To support these walkers and for a full list of walkers and teams, please visit
https://walk.quintehumanesociety.com/donate.php?pdm=group