Former strip mine showcases nutrient management studies – AgriNews
---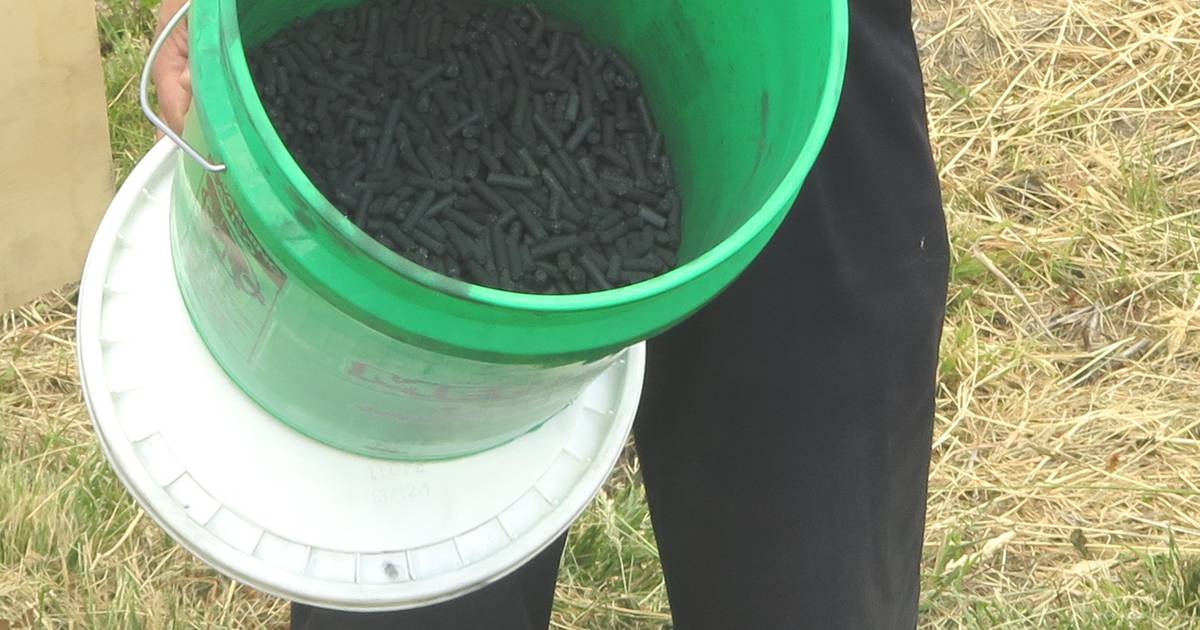 CUBA, Illinois – Travelers along Fulton County Route 5 between Canton and Cuba pass a site with several buildings prefaced by a Metropolitan Water Reclamation District sign and may wonder what it is.
The Greater Chicago MWRD has had a presence in Fulton County since 1970 when it purchased 13,500 acres of mostly abandoned surface mines as part of its "Prairie Plan" restoration efforts. It now includes ponds, row crops, pastures and woods.
"You might be wondering what MWRD Chicago is doing in Fulton County," said Albert Cox, MWRD's director of environmental monitoring and research, during a recent field day highlighting the research on nutrient management on site.
"This land was once an open pit mine. Almost nothing could grow there, but the MWRD already had a resource, biosolids. It was applied to the land and it is what converted most of that land into productive agricultural land.
The MWRD treats an average of 1.3 billion gallons of wastewater per day and releases it as clean water into waterways. The process recovers nutrients in the treatment process and converts them into products like fertilizers and compost for reuse.
"If we can come together and solve the problem collaboratively, it will help us reach our goal faster."

— Albert Cox, Environmental Monitoring and Research Manager, Metropolitan Water Reclamation District
Air-dried biosolids are solid organic materials recovered from a wastewater treatment process and improve soil structure and porosity.
"Not all land was covered in biosolids. Some of them were good agricultural land. Now 4,000 acres is cropland that is farmed by area farmers," Cox added.
The restoration effort was honored by the American Society of Civil Engineers as the Outstanding Engineering Achievement of the Year in 1974.
Field research
The site has since been transformed into a large outdoor laboratory where multiple research projects are carried out to develop and test best management practices to reduce the diffuse loss of nutrients from agricultural land.
MWRD established the program at its trial site to foster collaboration with agricultural producers and academic researchers to test and demonstrate nutrient management practices.
This effort began with meetings in 2013 where stakeholders laid the groundwork for what would become Illinois' Nutrient Loss Reduction Strategy two years later.
The NLRS has set targets to reduce total phosphorus loss by 25% and total nitrogen loadings by 15% by 2025 with a long-term goal of a 45% reduction of both.
"The reason we're here is really because of this whole effort that started in Illinois in 2013," said Lauren Lurkins, director of environmental policy for the Illinois Farm Bureau.
Lurkins represented agriculture at initial meetings to develop a plan to reduce nutrient loadings from "I" states and others in the Gulf of Mexico.
"We give a lot of credit to our Department of Agriculture and the Illinois EPA for really giving this thing a life of its own. It started by inviting different opinions and stakeholders into the room on several occasions to develop a strategy for moving forward.
Representatives from environmental groups, agricultural groups, major wastewater treatment facilities, academics and regulatory agencies have participated in these meetings.
Partnership in action
"This site has become the perfect example of a place where the point source which is like the MWRD which discharges water from a pipe and agriculture can come together in partnership to deal with nutrients because point sources don't are only half the story and non-point sources which is agriculture is the other half of the story," Cox said.
"If we can come together and solve the problem collaboratively, it will help us reach our goal faster. If you want to go slow, go alone, if you want to go fast, take others with you. That's why this collaboration is a key part of the statewide nutrient loss reduction strategy. »
"No matter where you live in Illinois, we are all connected by our waterways," said MWRD Commissioner Eira Corral Sepúlveda.
"Through this partnership, we can learn best practices for nutrient loss reduction strategies that improve water quality here in Illinois and as far away as the Gulf of Mexico."
field day
About 60 people attended the June 7 field day, including representatives from the IFB, Cook County Farm Bureau, Fulton County Farm Bureau, Illinois Environmental Protection Agency, Illinois DOA and of the Illinois Nutrient Research and Education Council, as well as area farmers.
University of Illinois professors and researchers presented approaches to reduce phosphorus losses, soil erosion through practices such as slow-release fertilizer captured from municipal wastewater treatment , a bioreactor and biochar-sorption system to capture nutrients, and water lifters to combine drainage and sub-irrigation systems to keep nutrients in the field.
Funding for the research was provided by the Illinois NREC, MWRD, and US EPA.
"We continue to remain open to expanding this collaboration even further to incorporate additional ideas for this collaboration and this program to further contribute to Illinois' nutrient loss reduction strategy," Cox said.