How Dhaka can benefit from circular waste management
---
Citizens are those who enable the circular movement of waste, for which they should be rewarded with social/economic benefits. PHOTO: STAR

">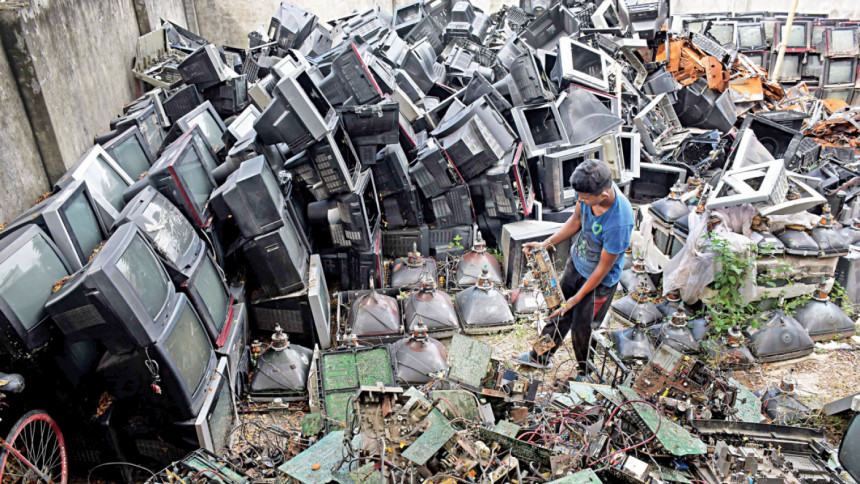 Citizens are those who enable the circular movement of waste, for which they should be rewarded with social/economic benefits. PHOTO: STAR
Large companies offering commercial and residential waste collection services make a lot of money collecting and processing waste in the West. Just consider the economic value of the following items: bottles and cans, toys, metal objects, boxes, paper products, books, clothes, and old cell phones and computers – all thrown away without regard to the negative externalities they create. Then there is the organic waste generated in millions of kitchens. Is everything trash or is there money in the trash? Money can be interpreted as benefits not only for individuals, but also for communities, society, the economy and the very environment which absorbs much of what we carelessly discard. Here we explore the opportunities that lurk in the elements we casually reject. Instead of being used or repurposed, much of it ends up in landfills.
Today's world is vibrant with innovation. In the last century, we were blessed with unprecedented technological and economic growth. Alongside this, however, are new models, new technologies and new ways of doing the same thing – perhaps more efficiently. As new innovations emerged, the elimination of old solutions began to generate a mountain of discarded goods never seen or experienced. There is great opportunity in everything that people reject.
The waste that we all produce every day, in the hundreds of thousands of tons, offers opportunities for economic growth, as well as social transformation. All of this can be done through a simple but effective system.
TABLE: Courtesy
">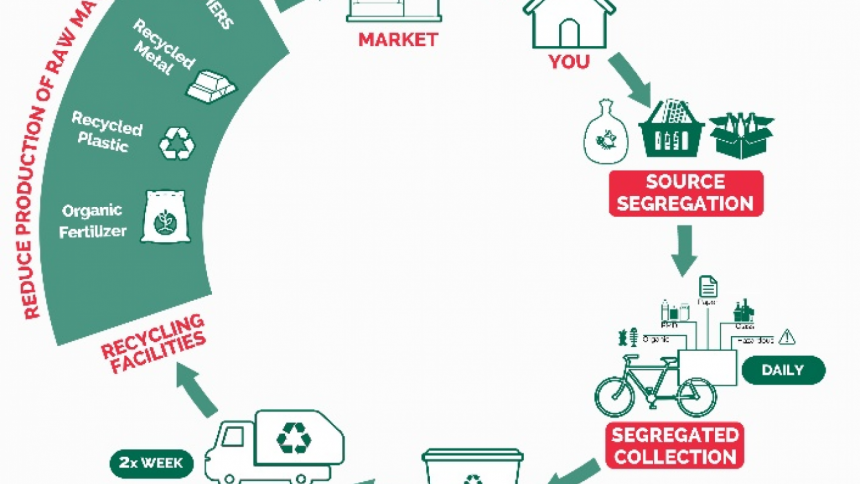 TABLE: Courtesy
First, the system in question must be designed to create a circular movement in all sectors of urban life, the environment and the economy. Circularity means perpetual motion, and perpetual growth is the end goal. We must create an endless cycle that creates perpetual growth. Take rain, for example. It's part of a circular process. Water evaporates on a hot day in the atmosphere, and when it is cold, it descends back to Earth to evaporate again, repeating the cycle endlessly. Our thinking uses this simple principle of circularity without wasting resources. Instead of water, we move waste in an endless circular pattern, generating both economic and social value for citizens. Citizens are those who enable the circular movement of waste, for which they should be rewarded with social/economic benefits. The magnitude of these rewards depends on their contribution to the circularity of waste, serving as a catalyst for economic and social growth for individuals and communities.
Secondly, individuals and different communities in Dhaka can be incentivized to be the cornerstone of the circular waste stream, depending on their contribution to the system and the amount of individual and community points they accumulate from the waste they help to set in circular motion. . Accumulated points then become catalysts for personal and community growth, ranging from simple things that would make everyday household life easier (for example, a shopping coupon or a bus pass), to being able to decide what to invest in when to talk from community improvement (e.g. repairing roads, improving street lighting) or even receiving educational benefits or funds to invest in sustainable start-ups. In other words, everyone from all walks of life would be able to create a better world, while gaining rewards for themselves and their community in the process. Through such an incentive system, the city of Dhaka could achieve city-wide innovation, stability and growth in several ways.
The whole city could be integrated into this new way of life by simplifying participation, while the system is very rewarding for individual households and different communities depending on the points accumulated. It just needs to adopt a well-designed digital application that effectively integrates the circular process. It must be simple for the users, but strongly impactful by its capacity to generate environmental, economic and societal points of and for all the inhabitants of Dhaka.
The circular process should be adaptable to public demands and local government leadership goals, whereby people get exactly the kind of resources they want and need as a benefit to participate in the circular process.
Adaptability and alignment with the needs of the general public can make the idea of ​​circularity indefinitely relevant for the city of Dhaka. It presents itself as a game, bringing everyone together like a game night with your friends and family. This is a game you cannot lose by mere dedicated participation; but if you win (using the reward system correctly), the world around you can change for the better. This system would uplift everyone in the city while building a powerful circular economy and a stable, happy, and empowered society.
TABLE: Courtesy
">
TABLE: Courtesy
Finally, the idea of ​​circularity can be perpetuated with community building in mind through a creative effort of leadership, technological intervention, and astute management.
The proposed system – more of a way of life – can be described as an overarching framework for building communities, smart investments and circular waste streams, which unifies a variety of factors for the creation of perpetual value across all sectors of life in Dhaka. A critical challenge will be communicating the idea to city residents to participate in this creative enterprise. A pilot project can make a real difference to the success of the idea.
This editorial, the third in a four-part series, is the result of the authors' participation in the interdisciplinary hackathon of the 23rd ASEF Summer University (ASEFSU23) on "Livable cities for a sustainable future" imagined by young Asian and European professionals and students.
Vilim Borosa is a student of Global Sustainability Science at Utrecht University and Chemical Engineering at the University of Zagreb.
Dr Syed Saad Andaleeb is Distinguished Professor Emeritus at Pennsylvania State University and former Vice Chancellor of the University of Brac.