Ind status at theater will help artists recoup Covid losses: Min | Nagpur News
---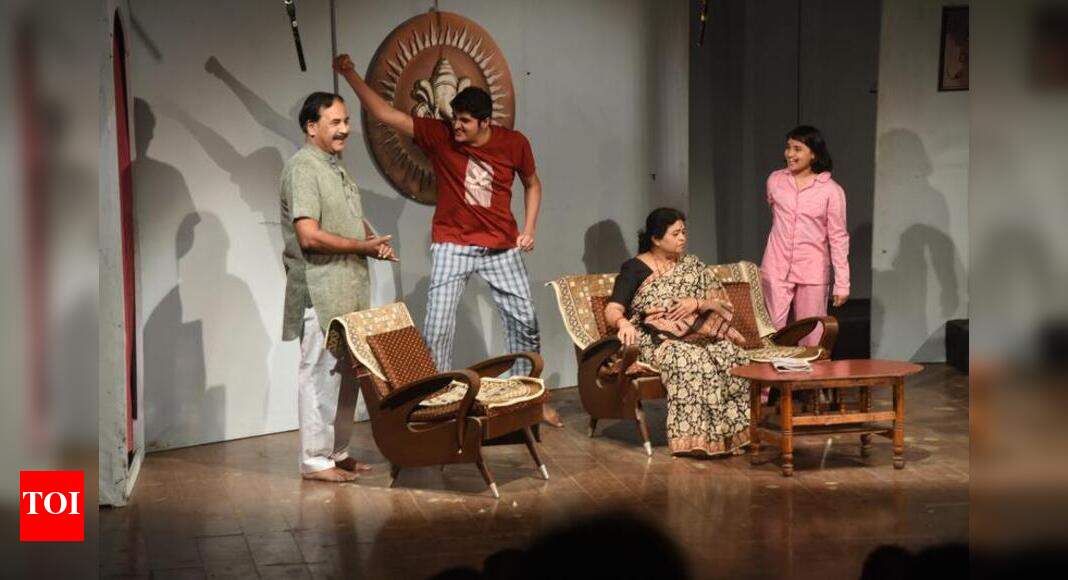 Artists performing in the play 'Atmabhan' during the 60th Maharashtra State Marathi Amateur Drama Competition at Scientific Society Hall, Laxmi Nagar on Monday
Nagpur: The 60th edition of the Maharashtra State Marathi Amateur Theater Festival kicked off simultaneously in 19 centers across Maharashtra and one in Goa on Monday. Cultural Affairs Minister Amit Deshmukh opened the festival virtually from Mumbai.
He said the government had now granted 'industry' status to theatre, filmmaking and other performing arts. "It will help artists recover from the losses they suffered during the two years of the pandemic," Deshmukh said.
Revenue Minister Balasaheb Thorat, who presided over the ceremony, said the theater festival is the first state-sponsored cultural event after Covid and will bring life back to normalcy. "From now on, we must start celebrating such events with all the festive fervor. It will give people confidence that the pandemic is over," he added.
Cooperation Minister Balasaheb Patil and Environment Minister Aaditya Thackeray also attended the event.
In Nagpur, the Hall of the Scientific Society hosted the inaugural ceremony where the officers of the two branches of the Akhil Bharatiya Marathi Natya Parishad were present. The inaugural performance of the play 'Atmabhan' directed by Tilak Nagar Mahila Mandal, Nagpur was held with an audience of 50%. A total of 22 amateur plays from Nagpur district will be staged every day till March 21.
Nagpur region coordinator Vaidehi Chawre said all theater groups have confirmed their entries even though the competition was delayed due to Covid. "We have received confirmation from all 22 groups. Hopefully all games will be staged and according to the rules the top three will advance to the final round," she said.
Theater performers have expressed joy that the state has avoided further delays. "It was disappointing when the state postponed the contest just 3 days before the scheduled January 15 date. The training sessions were then in full swing. Further delay would have created resentment in the performers' groups," said theater activist Virendra Ganvir.
On Tuesday, the Kalasagar group from Nagpur will present the play "Vidhilikhi" written by Padam Nair and directed by Vinod Garjalwar.
FacebookTwitterLinkedInE-mail