Kenyans marvel at the biggest and brightest supermoon of the year
---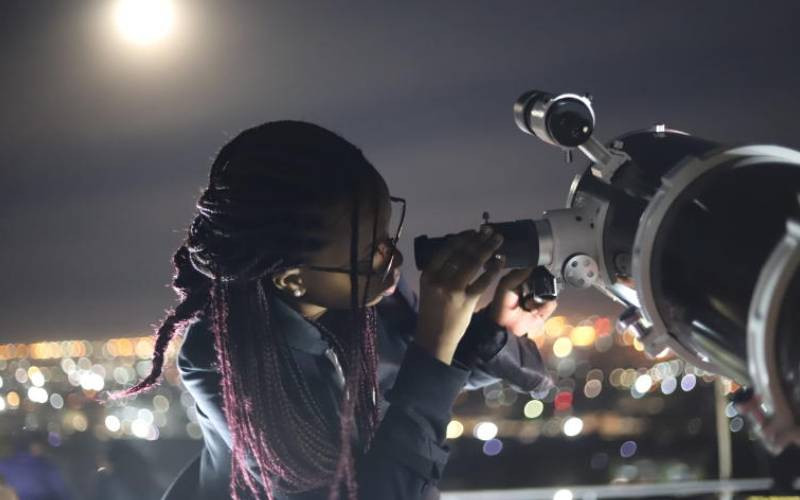 People from all walks of life gathered in large numbers at the top of the Kenyatta International Convention Center (KICC) building in Nairobi to marvel at the biggest and brightest moon of the year, known in the lingo spatial like super full moon.
It is a phenomenon that occurs when the full moon is at perigee – the closest distance to Earth during the year at 363,300 km.
This is because the moon's orbit is not a perfect circle, and sometimes it is closer to Earth (Perigee) and sometimes farther from Earth (Apogee).
"When the two miracles occur and the full moon coincides with perigee, that is when a
the supermoon occurs. A supermoon is typically 16% brighter and 7% larger than a full moon," said Samwel Nyangi of the Amateur Astronomical Society of Kenya (AASK).
At the event organized by AASK and Leo Sky Africa, various entities like the Kenya Space Agency and the University of Nairobi provided telescopes which made Thursday night's sighting interesting.
A notable mention is the Kenya Space Agency's Celestron Nextar 8SE computerized telescope which showed the moon in unprecedented detail.
A representative from Saudi Arabia pointed to the Apollo landing site, lunar craters as well as points on the moon where signs of water have been discovered, all visible through the telescope.
Amazed astronomy enthusiasts were able to capture the moon through the telescope using their smartphones using an adapter attached to the telescope.
Amateur astrophotographers have used this to their advantage when taking images of the moon using their cameras. The phenomenon occurs about three to four times a year.
"The goal was to bring people together from different sectors of the space industry, academia and government, so that we could start building a community of interested people. For us, it was an exercise in community building under a common phenomenon, the super moon. We wanted to organize such events locally to break the norm that this is a foreign concept," said Kimani Nyoike of Leo Sky Africa.