Manu Chandaria: I don't want to talk business anymore
---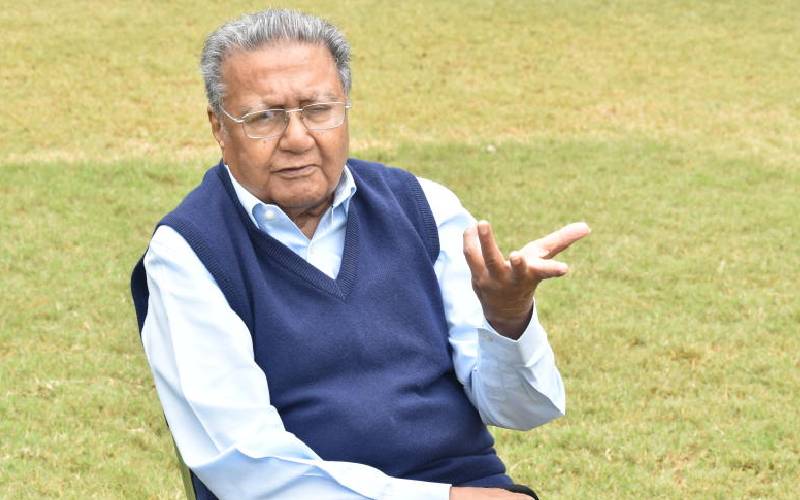 One of Manu Chandaria's few regrets is not retiring at 80.
At 93, the industrialist is still in fiddle shape and quick-witted as ever; you feel he could still be a globetrotter and address gatherings of business people.
But he retired at 90, breaking away from the business he was doing – and which, one might say, was doing to him in return.
"In business, I've retired from everything. If anyone asked me what's going on at Comcraft Group, Kaluworks or Mabati, I wouldn't answer," he says. Financial standard.
"Unless you completely detach – even from what you've been leading for so many years – you'll still think about it and not be retired."
After more than seven decades of service and leadership within the Comcraft Group, founded in 1915 and which he transformed into a multinational steel and aluminum manufacturer, Mr. Chandaria decided to retire and leave his proteges take over.
"My body is still fine. I chose to retire when I'm still well and do social work and stuff, not wait until I get sick," he says.
"I retired from business, I don't have that business concern."
His schedule has since changed. While he always wakes up around 6 a.m., he no longer has to get ready for the office at 9:30 a.m.
"I wait until 10:30, or 11 a.m., when I get my coffee," he says.
Keep fit
Mr. Chandaria's many years of activity and the mental exercises he always did to keep himself in shape must have really come in handy; he remembers details with staggering precision and detail.
He remembers being woken up by his father at 5:30 a.m. to read and do his homework when he was a child.
His parents, who he said spoke only vernacular and lacked education, instilled in him discipline and a desire to work hard to change himself and society for the better.
His father also taught him and his siblings to take a course.
"In 1916, my father was aiming for 4,000 rupees, then he would come home and stay with his family, start a family business and take care of his people. He taught us that you have to have a basis for why you do something," he says.
Mr. Chandaria went on to study engineering at university and even earned a master's degree, before returning to run Comcraft, then a young family business.
His engineering background has helped his adjustment in the business, although he says they were just "one, two odd engineers" in the family, and many others hacked him without that experience. specific professional.
After a few years of activity, he suggested creating the Chandaria Foundation, which would propose initiatives aimed at helping vulnerable people in society.
Initially, his father rejected the idea, doubting the potential as the family business was still small.
After a while, however, they sponsored the first student and impacted many others in need, becoming a foundation in every town where Comcraft operates.
In retirement, Mr. Chandaria says he does not welcome those who visit to discuss business. But he listens to those who want to talk about social impact.
He is Chancellor of United States International University (USIU) Africa, served as Chancellor of the Technical University of Kenya and is Chairman of the Bank of India.
In these institutions, he says, he does not interfere with operations, availing himself of consultation and offering advice when needed.
"There are institutions with which I am linked. Several institutions come to me. But normally, I won't go and say that I would like to do that," he said.
"As chancellor, I am the titular head of the USIU, but I cannot intervene in anything. All my duties are once or twice a year at graduation; I have to be there to sign the papers.
"Otherwise, I have no connection with them; they call me from time to time and tell me how things are going. But for me, I don't want to get into things; as chancellor, you cannot.
With so many years in the business, does Mr. Chandaria miss some of the things he did every day?
He says it was a very difficult decision to make "that you don't want, from now on, what you're used to."
He says he told company executives to fix any problems they had in the ranks and only involve him if they needed help with social work.
"I think it was a good decision because how long can you go on? How long can numbers two and numbers three and four stay there? They have to become number one at some point.
Mr Chandaria belongs to the Jain religion, which he says makes up around 20% of the Asian population in Kenya.
In Jainism, the three guiding principles are right belief, right knowledge and right conduct.
Jainism also believes in non-violence and encourages living in a way that minimizes the use of the world's resources.
"In Jainism, when you cut, you cut. There is no longer a link," he said.
That means ready or not, when his time out came, those behind him had to get up and take the wheel.
"It takes a lot of determination to walk away from things. Our religion is very much based on that. Give up because it is the constant desires that keep you busy and you cannot enjoy life," Mr. Chandaria says.
"Determine that you want to detach and detach. As soon as I ask a question (about Comcraft and its activities), there will be 100 questions I want to ask. It's a huge disciplinary test; it is not easy."
He says business can only thrive if one is able to trust people and their abilities. "If I have the ability, why wouldn't you have the ability? We are all human beings.
He says a leader's failure to detach and give others a chance stifles their growth and harms the success and continuity of a business.
He is convinced that the principles that have been instilled in those who run the company will ensure the sustainability of the company and the foundation.
Social work and spending time with family and friends keep him busy and he doesn't miss his work schedule.
Impact on society
On his growth as a successful industrialist, Mr Chandaria says he was disciplined enough not to get carried away with the finer things in life.
It has enviable properties, but it says what a person should be known for is not their wealth, but their impact on society by using that wealth.
"Manu is not known because he is rich. He is known because he is the man who helps others," he says.
"I can only wear one pair of pants at a time, no matter how many I have. As soon as you realize that life is not a material matter, you think about what you can do, not for yourself but for others.
He instilled philanthropy in those who run his businesses, and they understand that they need to consider more than just corporate profit margins.
"My principle is: we don't get it (profit) from up there. We get this company. We have a responsibility to this society," says Chandaria.
He also says he has no interest in some of the organizations he is associated with, some of them just seeking his presence, which is an endorsement.
The Chandaria Foundation, however, has an 8% stake in Kenindia Insurance, which, in addition to what it earns as chancellor and chairman of several institutions, goes to philanthropy and charity.
He is fortunate that many people know him for the impact he had on society, and not just for his wealth.
"It's a good thing that people know Manu Chandaria for what he has done. The country can say who I am without meeting me because through what we do people feel that I am a man who loves the country," he says.
"They don't know I have a Rolls (Royce, which is one of his expensive acquisitions), they don't know about the mansion, they don't even know where I live. But they know Manu.
"And that's how they should know Manu."