People News: MAD Event Management, The Toy Association, ConvExx and more
---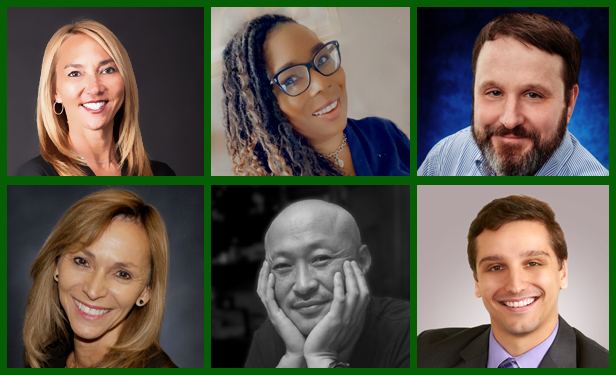 People News: MAD Event Management, The Toy Association, ConvExx and more

While the trade show industry tends to slow down during the scorching days of summer, that hasn't stopped event-related organizations from welcoming established industry professionals to their teams while rewarding hard-working staff with high titles and responsibilities. Check them!
MAD event management
Full-Service Event Planning and Management Company MAD Event Management LLC (MAD) recently teamed up with award-winning journalist Danica Tormohlen to stimulate the creation of content for UFI, the global exhibition industry association and the wider business events industry. Tormohlen is taking on this role as part of the strategic partnership with UFI announced by MAD in June.
Tormohlen will help MAD and UFI develop and improve UFI member services for North American members with the goal of creating stronger links between the North American exhibition industry and the global industry, and expand UFI's North American membership base. In her role, she will manage content development, analyze research for the region and communicate with the on-site industry community at events.
Tormohlen most recently served as Director of Content, Publisher and Editor-in-Chief for the Society of Independent Show Organizers (SISO) and, prior to that, Editor-in-Chief for Trade Show Executive for 10 years. Prior to TSE, she worked as editor and publisher of EXPO magazine.
The toy association
The toy association hosted a global toy safety expert and 28-year industry veteran Jos Huxley as senior vice president of technical affairs. In his new role, Huxley will lead the ongoing development of technical policies and strategies relating to toy safety, environmental sustainability, supply chain issues, factory processes and other related issues, while supporting acting as a guide for member companies navigating these and other issues. .
Huxley joins the Toy Association after more than 28 years at Hasbro, most recently serving as a lead QA engineer and regulatory specialist. He began his career at Hasbro in 1994 as a Reliability Engineer in the UK office, before joining the Rhode Island-based headquarters in 1998 and eventually taking on the role of Senior QA Engineer.
Over the next six to nine months, Huxley will work alongside Alan Kaufman, who recently transitioned to senior technical affairs adviser and will then retire after more than 11 years with The Toy Association and more than 40 in the toy industry. .
ConvExx
Independent trade show and event management company, ConvExxpromoted Regina Clark from Sales Administrator to Director, Exhibitor Services, responsible for all exhibitor services including sales administration, tracking and approving booth assignments and closing customer accounts.
Clark began her career at ConvExx in 2003 as a Sales Department Assistant. She works closely with the sales teams for the SHOT Show and Sweets and Snacks Fairas well as the internal teams of ConvExx for Mobile Technology Fair and the Southern Retailers Conferenceand interacted with thousands of exhibitors, helping them succeed and ensuring a positive show experience. Prior to ConvExx, Clark worked in human resources.
Visit Albuquerque
Visit Albuquerque welcomed a 20-year veteran of association leadership Scott Craighead as the new Vice President of Sales, Services and Sports, effective August 22. Craighead comes to Albuquerque most recently from the International Association of Exhibitions and Events (IAEE), where he served as Vice President of Exhibitions and Events as well as Vice President of the Center for Exhibition Industry Research (CEIR). He brings extensive experience working with destination marketing organizations and has implemented numerous event and market related initiatives.
In his new role at Visit Albuquerque, Craighead will oversee the Sales, Services and Sports division, responsible for generating qualified leads for meetings, conventions, sports and group tours that are distributed to Albuquerque hotels, at the Albuquerque Convention Center and area sports and event facilities.
As part of his 14-year career with the IAEE, Craighead was responsible for the budgeting, development and design of the shows, technology solutions, personnel, contracts and overall logistics for the annual meeting. and the IAEE Expo! Exhibition! and other IAEE-produced events. Previously, he handled exhibition logistics and sales for Global Semiconductor Alliance events and exhibitions held in the United States, Europe and Asia.
American Pet Products Association
The American Pet Products Association (APPA), co-producer of World Pet Show, conducted five employee promotions across its trade shows, booth sales and membership departments. The ad falls like Peter Scott prepares to take the helm as the organization's new CEO on August 15.
Kate Stewart

was promoted to Vice President, Trade Show Management, responsible for overseeing the Global Pet Expo show team, directing day-to-day operations and working closely with the show's general services contractor. Since joining the APPA in 2011, Stewart has received exhibition management certification and recognition from the IAEE, for which she serves on the Board of Directors of the IAEE New York Local Chapter. and the IAEE National Young Professionals Committee.

Chris Bonifati

has been named Senior Director, Trade Show Development. Bonifati joined APPA in 2015 and is now responsible for overseeing show operations, including facilitating attendee registration, expanding programming, and maintaining the Global Pet Expo brand. An expert in data analysis using a data-driven approach to drive APPA forward, Bonifati has obtained certification in exhibition management and is a member of the IAEE Young Professionals Committee.

Tracey Wilson

was promoted to Senior Manager, Trade Show Planning and Operations, responsible for managing Global Pet Expo vendors and on-site staff, as well as coordinating meeting rooms for the Global Learning Series and exhibitors and overseeing showcase of new products. An APPA employee since 2000, Wilson is certified in exhibition management and is a member of the IAEE, ASAE and PCMA.

Karyn Bennitt

is now Director of Booth Sales and Membership, responsible for growing APPA's membership through acquisition, engagement and retention efforts. Since joining APPA in 2008, Bennitt has grown its strong training program and other key member benefits.

Elizabeth Valencia

has been appointed Manager, Exhibitor and Visitor Services. A member of the APPA team since 2019, she has helped advance the organization's show team and is working towards obtaining a Google Analytics certification. In her new role, Valencia will assist with recruitment and retention of Global Pet Expo buyers and exhibitors, sales and booth assignments, and buyer and exhibitor services.
Visit K.C.
Visit K.C.the Kansas City area's leading hospitality sales and marketing organization, welcomed a 13-year-old hospitality and sales professional Catherine "Kat" Taylor as National Account Manager. Working within the organization's convention sales team, she will be based and responsible for the Washington, DC market.
Taylor comes to Visit KC after more than eight years with Visit Baltimore, most recently serving as National Sales Manager for the Midwest Territory, a role in which she worked collaboratively with the Baltimore Convention Center and the hospitality community to host meetings with a significant impact for his community. Prior to visiting Baltimore, Taylor spent five years at Hyatt Hotels.
American Rental Association
The American Rental Association (ARA), producers of ARA shownamed Erika Singleton its new head of workforce development. With a background in human resource management, employee training, and program marketing, she will work to improve the association's current workplace initiatives as well as address the labor shortage in the area. industry by promoting careers in the equipment and event rental industry.
Singleton will also serve as a resource on other topics, including public speaking in the rental industry, attending job and career fairs, workforce solutions and training programs. alternative financing.
ImpactXM
Global experiential marketing agency ImpactXM named Marty Park vice president of international business development. With 27 years of experience developing and managing international exhibitions and events, he will be instrumental in further expanding the agency's reach, continuing to forge close ties with the company's current customers and advancing new opportunities, particularly in the Korean market.
Park brings an extensive portfolio of international work and deep expertise in supporting some of the world's best-known brands in the development of bespoke events, exhibitions and experiences. Prior to Impact XM, he led Korean business for a Boston-based brand experience agency as Vice President of Korean Customer Services, working with clients including LG, Kia, and Hyundai for 11 years. Park also spent 11 years with an exhibition stand builder and interior finisher in Germany, developing his repertoire of international business and communication efforts.
Do you have news of people to share? Please send ads and high resolution photos to [email protected].
Don't miss any event news: Subscribe to our weekly e-newsletter HERE, listen to our latest podcast HERE and engage with us on Twitter, Facebook, LinkedIn and instagram!