Saccos to share Sh3.8b Co-op Bank dividend check
---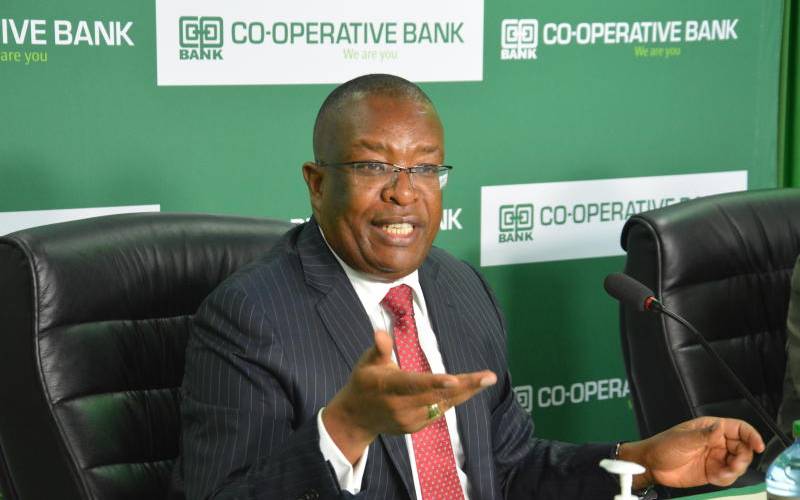 The Cooperative Savings and Credit Societies (Saccos) are awaiting a 3.79 billion shillings dividend check from the Cooperative Bank of Kenya, bringing their cumulative revenue to 25.3 billion shillings in seven years.
The payout, scheduled for mid-June, comes after Co-op Bank's board recommended a 1 shilling per share dividend of 5.86 billion shillings, with Saccos the biggest winner.
Co-op Holdings Co-operative Society, which represents Kenya's cooperative movement, has a 64.5% stake in the Tier I lender, against which it will receive majority dividends.
The Co-op Bank board has recommended a 1 shilling per share dividend – the same as the 2020 earnings payout – giving the co-operative movement a much-needed boost.
With this year's dividend payments, Kenyan cooperatives through Co-op Holdings will have earned Sh25.3 billion in dividend payments from Co-op Bank over the past seven years.
"Co-op Bank's board has taken the bold step of maintaining the same level of dividend to shareholders – even during the Covid-19 crisis when many other banks and listed companies decided to withhold dividends," said Gideon Muriuki, CEO of Cooperative Bank (pictured).
Harambee Sacco, with the highest stake (3.83%), will receive 145.16 million shillings, followed by H&M Cooperative with 125.45 million shillings for its 3.31% stake.
Kenya Police Sacco will get 120.14 million shillings for holding a 3.17% stake, while Afya Sacco and Masaku Teachers Coop Savings will get 111.43 million shillings and 110.29 million shillings for a 2 .94% and 2.91% respectively.
The top 10 largest recipients will be Kipsigis Teachers Coop Savings (Sh101.57 million), Cooperative Bank Coop Savings (Sh96.27 million), K-Unity Savings and Credit (Sh90.2 million), Telepost Cooperative (Sh86.41 million ) and Nawiri Sacco (Shs. 69.36 million).