State-level WAQF sensitization seminar in Pune sets its vision for 2023 – Punekar News
---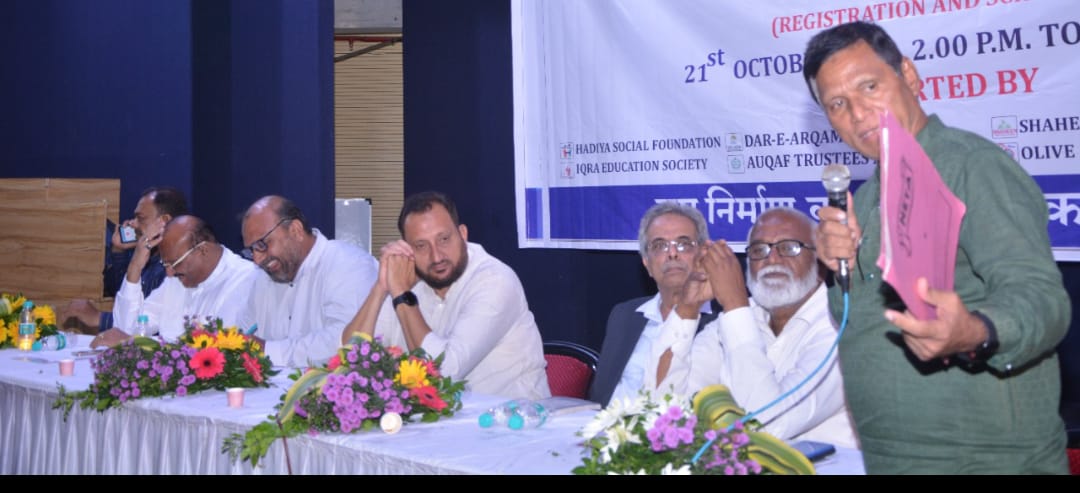 Pune, 26th October 2022: A one-day state-level waqf awareness program was held at Dr. Babasaheb Ambedkar Bhavan on 21st October, where a number of social organizations and NGOs working for the recovery of Waqf properties from illegal invaders participated in the conference. The conference also aimed to create a documentation process for waqf work and how to use waqf properties worth millions of rupees for the socio-economic development of the Muslim community. Among those present during the program were Maharashtra Wakf board member Dr. Mudassir Lambe, eminent social workers Farid Tungekar, Usman Tamboli, Zakir Shikalgar, Nadeem Mujawar.
Maharashtra Waqf Liberation and Protection Task Force, a nationwide waqf organization, President Saleem Mulla said: "Systematic attempts have been made by very powerful and educated vested interests in the Muslim community to sabotage the waqf program which aims to empower the nation. However, thanks to the huge support of the people, the waqf program has become a success in Pune. There is a large network of corrupt administrators, lawyers, businessmen, real estate agents, encroachments and unknown officials working around the clock to dismantle the good work of the waqf in Pune at commercial and selfish ends to the detriment of the community. We will expose this racket and ensure that some of the top educational institutions, schools, hospitals, skill development centers and community centers are established for the advancement and development of not only Muslims but all the other communities. We have found that the greatest threat to waqf work comes from the land mafia and also from a section of rogue elements in the community who have aligned themselves with criminals and corrupt elements and do not want to see the progress of the community. However, a large part of the community has realized the importance of waqf development and education," he said.
Mulla further explained that the waqf awareness conference set out his 2030 vision that the community of Pune should start its national skills university for Muslims, its multi-specialty hospital, a dozen English language schools, scholarship programs, skills development centers and a series of initiatives aimed at the social and economic empowerment of Muslims in the city. Other participating organizations included Waqf Liason Forum, Auqaf Trustees Association, Shaheen Academy, Olive Organization, Dar E Arqam, Iqra Education Society and Idara Aima E Masjid. In his address, Mulla thanked all the participating organizations for their support and urged them to ask tough questions of the authorities without any fear of bringing out the corruption and immorality in operation in waqf-related work. Earlier, waqf activists had urged the Director General of Police of Maharashtra (DGP) to form a special police team to deal with waqf land grabbers and their supporters.